Google's mobile search results in the U.S. to post website names instead of domain names
11
Google has made a small, but interesting change to its mobile search results. Gone are the domain names, replaced instead with the "
real world name of the site.
" In other words, instead of seeing in green
en.m.wikipedia.org/wiki/Google
when looking up the Wikipedia page for Google, you will see
Wikipedia > wiki > Google
.
There are basically two changes here. One is the replacement of the domain name with the site's real name. The second change uses a "breadcrumbs" structure for the remainder of the URL. This is a set of links that provides an easier trail to a web page. Good examples of a breadcrumb would include
Books › Authors › Stephen King
or
Books › Fiction › Horror
. Google believes that the changes will allow mobile search results "to better reflect the names of websites."
The changes are being made to Google's mobile search results only and are rolling out slowly. While the use of breadcrumbs is happening globally, the replacement of the domain names is taking place in the U.S. only.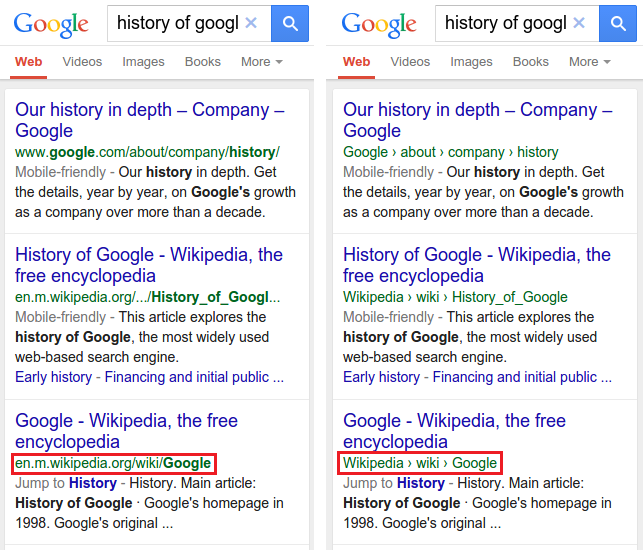 Old format on left, new format on right
source:
Google
via
AndroidCentral