Google's Stadia game streamer launching with Pixel 3 support, exclusives, and $9.99 price
4
Google promised to launch its intriguing game streamer Stadia in the summer, and is now ready with the pricing, as well as the much needed information about the different tiers available. As a reminder, Stadia is a cloud-first gaming service, including on phones, and Google promises unseen reductions to latency that has been the death knell of many a game streamers before.
In a blog post, the company divulged that the top-tier, Stadia Founder's Edition combo will include three months of Stadia Pro, a limited-edition Night Blue Stadia controller, a Chromecast Ultra to stream the thing, and a three month Buddy Pass for someone else to join on the fun, all for $129. Not a bad introductory price, and you get to be one of the first to select a Stadia nickname, and we all know how important that is.
Stadia Pro vs Stadia Base price and features
What's Stadia Pro, you ask? Well, that gets us to the pricing tiers. Stadia Pro is the one that will let you play up to 4K HDR resolution at 60 frames per second with 5.1 surround sound, and on multiple screens. Just like with Sony's PlayStation Plus, Stadia Pro will give you free games and discounts on new ones, too.
Stadia Pro will cost $9.99 a month after the grace period, and if you think that's too much, Google will be launching Stadia Base next year with "just" 1080p resolution support albeit still up to 60fps, and no freebies.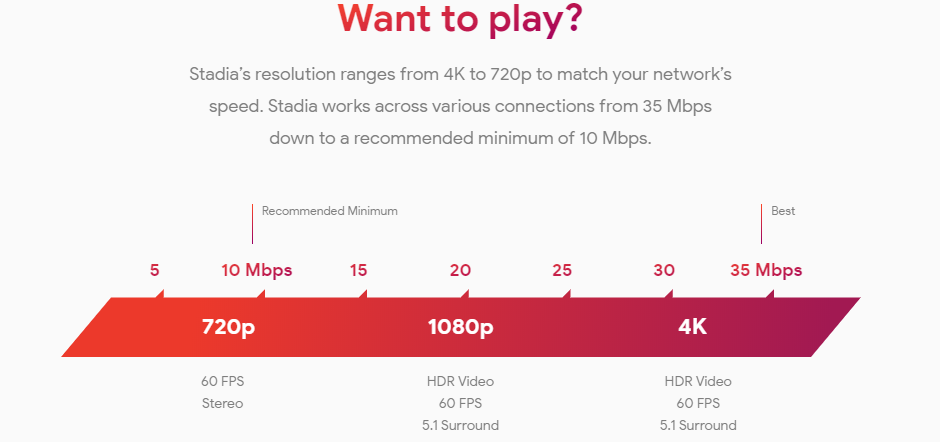 Google Stadia Internet connection sped requirements for 1080p (Base) and 4K (Pro) pricing tiers
The controller itself has dual-band (2.4GHz / 5GHz) Wi-fi connectivity and hooks up to Google's gaming servers directly to avoid extra latency barriers. It is 9.45 oz (268g) in weight, and the Bluetooth connection is 4.2. A dedicated Google Assistant button triggers the microphone during sessions, and there is a "capture button" that does what is says on the tin - takes snapshots and video snippets of your marvelous gameplay.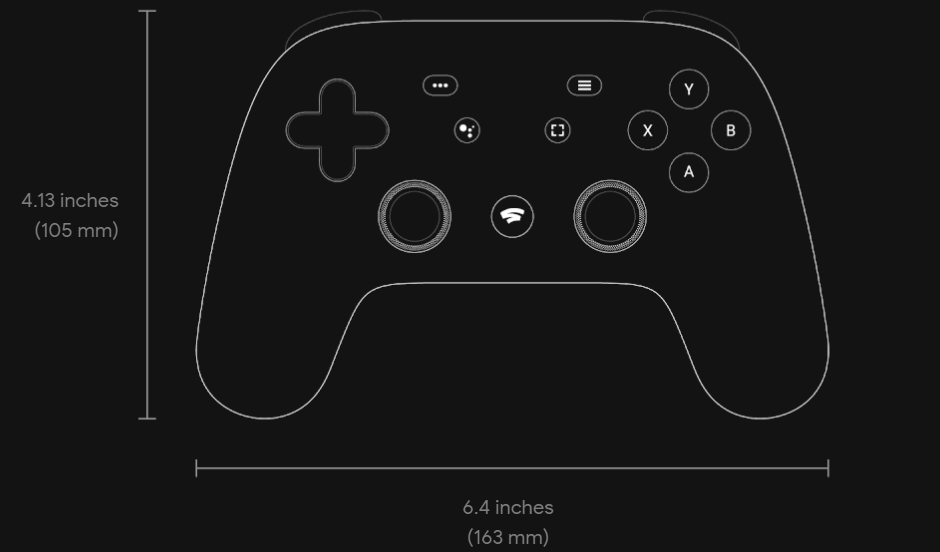 Stadia Pro release and country availability
Mum's the word on the Base pricing just yet, but the Stadia Pro subscription will be launched in November. Extra controllers in the three available colors - Just Black, Clearly White or Wasabi - will be $69.99, and the Pro release is set for 14 countries: U.S., Belgium, Canada, Denmark, Finland, France, Germany, Italy, Ireland, Netherlands, Norway, Spain, Sweden, and U.K., with more to come next yer.
Stadia Pro games at launch
Assassin's Creed: Odyssey
Baldur's Gate 3
Borderlands 3
The Crew 2
Darksiders Genesis
Destiny 2
The Division 2
DOOM Eternal
Dragon Ball Xenoverse 2
The Elder Scrolls Online
Farming Simulator 19
Final Fantasy 15
Football Manager 2020
Get Packed
Ghost Recon Breakpoint
Grid
Gylt
Just Dance 2020
Metro Exodus
Mortal Kombat 11
NBA 2K
Power Rangers: Battle for the Grid
Rage 2
Samurai Showdown
Thumper
Tomb Raider Trilogy
Trials Rising
Wolfenstein: Youngblood
It's a decent list, as you can see, but still a far cry from what the big guns are offering. For those, however, you have to buy a console and hook it up to a TV, while Stadia will theoretically be available for you to pick off from everywhere. That includes your
Pixel 3
and
3a
phones, said Google.
The first free title that Stadia Pro will launch with, is chosen to be "Destiny 2," and not only does it come with the game, but also every add-on for it, the new Shadowkeep expansion pack, as well as the annual pass. This is one of the reasons Google boasts about $300 value in a $130 price for the "Founder's Edition" that is
available for pre-order
right now at the Google Store.
Out of all these titles, Gylt is the most interesting one regarding the future of the platform, as it will be only available for Stadia Pro (and Base, when it launches) subs, and there is a cool trailer to drum up excitement for this Google exclusive.