Google to add more payment options to the Android Market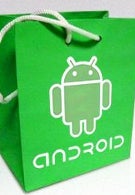 On the Android developers web site, Google passed along word that it is making some changes to the Android Market Developer Distribution Agreement. The Search Engine company's Tim Bray wrote that this is being done in preparation of changes being made to allow more payment options for purchasers of apps on the Android Market. Currently, buying an app requires the use of a credit card using Google's Checkout. Google plans on allowing carriers to put the charges for apps purchased from the Market directly on each customer's monthly phone bill. Presently, only T-Mobile allows customers in the U.S. to have app charges put on the monthly invoice.
To get things moving in the right direction, Google has made one change in the Agreement and has added a new section. Section 13.1 has been changed so that "authorized carriers" have been added as an indemnified party.This is a big clue telling us what the Mountain View based company has in mind. They also added Section 13.2 , which covers indemnity for payment processors for claims related to tax accrual. All very bland legalese to be sure, but for those who would rather pay for app purchases through their carrier instead of using Google Checkout, these are two very good changes. Both the change and the addition take place in 30 days, so we would expect to hear some official word from Google about new payment options for the Android Market sometime late in August.
source:
Androiddevelopers
via
AndroidGuys