Google starts deep linking iOS apps from Safari, throws shade at Apple
31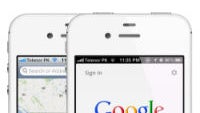 Apple usually isn't all that subtle when it comes to putting down competitors, especially Google. But, Google tends to be a bit more passive aggressive with its jabs, and that shows again in the new announcement to developers talking about how to deep link to iOS apps from Google search results in the Safari browser.This means that a search result for a location will show as a deep link that bumps users directly to that place page within an app like Yelp.
Of course, in the announcement Google couldn't help mentioning that not only has Android had this feature for a long time, there are more ways for developers to use the feature in Android:
App Indexing is now compatible with HTTP deep link standards for iOS 9, as it has been on Android from the beginning ... And, of course, on Android, you can still get your content into the Search results page, autocompletions, and Now on Tap by adding HTTP deep links and integrating with the App Indexing API.
Still this should be good news for developers and users alike, because it will make it easier to get out of the Safari browser and into apps, which tend to be faster and easier to use. Google said app content will start showing up in search results at the end of October.