Google shows how to quick and easy 'Get Your Google Back' on the new Windows 8/RT
18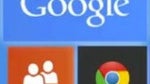 The launch of Windows 8 and RT, its limited ARM-based version, means a lot of people will bump head on with Bing and Internet Explorer. The latter has gotten much better over the years, but if you still want to have your Google experience and Chrome with its awesome bookmarks and cross-device features, you can.
Google has now released a funny how to video about this, in its typical fashion. Themed to Jackson 5's,
"I want you back,"
it shows how quick and easy it is to
"get your Google back."
It even leaves a couple of spare seconds to dance to the song. If you want. Check it out below.
source:
Business Insider