Google says Face Unlock will not work with a picture
52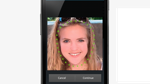 The new Face Unlock feature for Ice Cream Sandwich is one of the more intriguing features that will be available, we don't know a lot about how it exactly is going to work. Obviously, it would have helped if the demo at the Galaxy Nexus announcement had actually worked, but since we don't have that, we have to just guess.
The Cyanogen lead developer Koush tweeted that it seemed like it would be easy enough to game the system by using a photograph to hack into someone's phone. It's a valid worry, but also one that shows a pretty small amount of faith in the Google engineers. That fear has been put to rest by Android-focused Developer Advocate Tim Bray, who has said that a photo will not be enough to unlock your phone.
Now, the big question is in how long Face Unlock will take to get you into your phone. Face Unlock sounds great, and Google is known for pushing its products to be fast, but Face Unlock needs to be very fast to keep users content.