Google is the first on the world's biggest Times Square billboard, and you can interact with it on your phone
8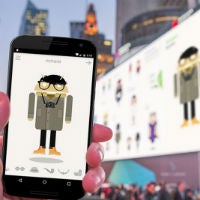 If you've ever been to or seen New York City's Times Square, you know that there is no shortage of billboards in the area. But, there is a new installation in Times Square that is bigger than any other electronic billboard screen so far. It covers an entire city block; and, Google is the first company to be featured on the display.
The idea of a bigger Times Square billboard, or that Google would be first on it, probably isn't all that surprising, but there is a pretty cool bonus for Android users. If you create a bugdroid character in Androidify, you'll have a chance to see your creation shown on the 25,000 square foot billboard. And, if you're in the Times Square area, you can wait in line for a chance to control your character using
motion
capture controls. There will even be contests to get your bugdroid character on a t-shirt or postcard.
The billboard spans between 45th and 46th streets on Broadway, and Google has reportedly paid about $2.5 million for four weeks of ad time. Google won't only be using that four weeks to advertise its own products though. It will be donating some of its time to six non-profit organizations - Made with Code, Charity Water, WWF, Khan Academy, NRDC, Donors Choose, and Give Directly.