Google executive Dan Fredinburg among those killed at Mount Everest base camp following huge earthquake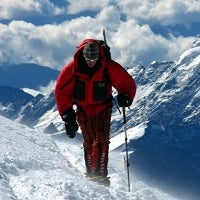 Early Saturday morning, the small nation of Nepal was at the center of the worst earthquake in its history, registering 7.8 on the Richter scale. Since the initial shake-up, as least one significant aftershock has hit the region, measuring a magnitude of 6.7.
Over one thousand people have been reported killed in a quake that impacted the city of Kathmandu to the slopes of Mount Everest and nearby basecamps.
It was at one of these basecamps where a long-time member of Google's privacy team and executive, Dan Fredinburg died after succumbing to a head injury suffered during an avalanche that resulted from the quake. Three other Googlers were with Fredinburg at the time, but were not injured.
The head of Google's privacy team, Lawrence You, announced that Google.org is committing $1 million to the response, and will be setting up a gift matching effort in the coming days.
sources:
CNN
,
The Washington Post
,
The Wall Street Journal
, and
+Lawrence You