Google Podcasts app arrives with personalized recommendations and Assistant integration
5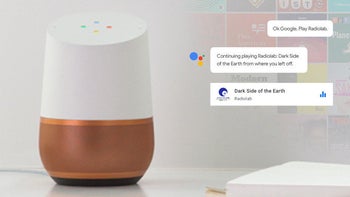 We
knew it was coming
and the Google Podcasts app is now live for Android users who want to jump on the service. Google Podcasts may not be as fully featured as some of the competition, and there's no plans for an iOS app, but it's a solid choice for the basics and the addition of Google smarts could be the killer feature here.
The standalone Google Podcasts app for Android isn't terribly different from the
podcasts player
that had been built into the Google app for a while now. It's easy enough to find and subscribe to podcasts, download episodes for offline listening, and there is a variable speed playback option. Some of the action flows aren't as streamlined as they could be though. For example, there's no easy way to subscribe to a podcast directly from the recommendations or search pages; instead you have to tap into the podcast page to subscribe. There are no custom playlists, and the option to mark a podcast as played is a bit buried. And, there is no widget available, but playback controls in the notification bar should make up for that to an extent, as well as the option to create a shortcut directly to a podcast on your home screen.
Where Google Podcasts does try to set itself apart is with personalized recommendations and integration with other Google products. Between what Google knows about you from your search history, combined with the podcasts you're subscribed to, Google is betting its recommendations will be better than other services can offer. Although, right now, there is a strange quirk where the recommendations will show podcasts you're already subscribed to, which seems unnecessary.
Beyond that, Google Podcasts has been integrated into the
Google Assistant
, meaning rather than the usual device syncing you might find in other apps, Google thinks just asking the Assistant is enough. So, if you start a podcast on one device, you can ask another device to play it and it will pick up where you left off. This should work on Google Home devices and more.
Google announced plans to continue improving Podcasts with efforts to foster more diversity in podcast creators and by integrating Google's speech-to-text and Translate prowess in order to offer podcast subtitles as well as translations. We'll have to wait and see how that works out.