Inviting friends to use Google Pay can bring you up to $100 of Play Store credit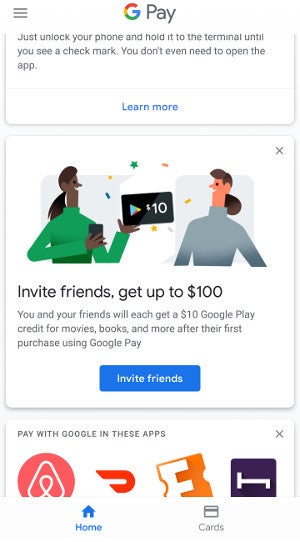 Google Pay is an Android app, successor to Android Pay – Google's mobile payment service. It allows you to save credit, debit, and gift cards on your device, which you can then use to make payments in various places. In an attempt to popularise its new-old payment service, Google has launched a new promotion. Each time you refer a new user to Google Pay and he or she makes their first payment, both of you will get 10 bucks to spend on Google Play Store purchases. You can invite people up to 10 times for a total of $100.
The new offer can be seen in the feed of the Google Pay app. Similar to other Google apps, Pay has "cards", which give you various info and one of those happens to be regarding the referral promotion. The card is conveniently called "Invite friends, get up to $100" and has a blue "Invite friends" button. Upon pressing it, you'll see your referral code, which you'll share with referrals via the "Invite friends" button (yes, there is another one). When they install Google Pay, first-time users will enter that code and when they make their first purchase you'll both receive $10.
The referral program is available in a number of countries, including Australia, the UK, Russia, the US, and more, but keep in mind you need to be 18+ to participate and you have 28 days to spend the promotion money in the Google Play Store. If not, they will disappear, making all your efforts worthless.
There's also
another promotion
regarding Google Pay. It involves making purchases using the app on 5 different days and each time you do it, you'll be granted $10 for a maximum of $50.