Google Interactive Events app will be for those who attend conferences, festivals and trade shows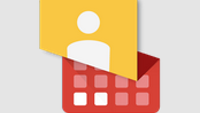 Looks like Google is testing out an app to be used by those attending a conference, festival, or trade show. Called
Google Interactive Events
, the app has certain features useful to those who are on the road, attending such events. For example, the app allows you to set your phone to show your local time back home instead of the time where a conference is being held. You can also receive a notification when certain sessions are ready to begin.
While the app is up in the Google Play Store, there isn't much you can do with it now since it requires you to log in to an event by using a QR code or text. When you install the app, you are greeted by a message that reads "
Shhh! This is a CONFIDENTIAL internal dogfood version of the Interactive Events app. Do not show this to non-Googlers and do not discuss this externally
."
For now, the app just takes up storage space on your device. But once it is active, this could be quite useful to the businessman attending trade shows or the young couple visiting music festivals. Heck, this could even come in handy at CES or MWC.
source: GoogleInteractiveEvents (
Android
) via
AndroidCentral