Google Earth for Android gets Street View and tweaked UI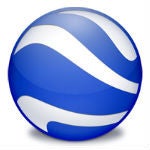 Google Earth has always been more of a novelty app than one with real functionality built in. It's always been a great app for going on a virtual sightseeing trip, but it hasn't always had the functionality of its cousin Google Maps, at least the Earth mobile version didn't. But, Google is looking to bring the two apps closer together with a new update of Google Earth for Android.
The update for Google Earth is available for free in the
Google Play Store
. No word on when the update will be making its way to iOS.