Google Earth for Android gets Street View and tweaked UI
5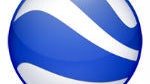 Google Earth has always been more of a novelty app than one with real functionality built in. It's always been a great app for going on a virtual sightseeing trip, but it hasn't always had the functionality of its cousin Google Maps, at least the Earth mobile version didn't. But, Google is looking to bring the two apps closer together with a new update of Google Earth for Android.

The update brings three changes to Google Earth. The biggest change is the addition of Street View, which has been a part of the desktop app, but hadn't made it to mobile before. So, now you can start from the world view and drill down all the way to street level, which is pretty cool. The search results list has been tweaked to make it easier to find what you want; and, directions have been improved to let you "visualize transit, walk, bike and drive directions in 3D". Lastly, the app now has the left-hand navigation panel that is becoming ubiquitous in mobile apps to make it easier to get around the app, and change layers.
The update for Google Earth is available for free in the
Google Play Store
. No word on when the update will be making its way to iOS.