Google Duo reportedly will add group calling (up to seven at one time) and low-light mode
5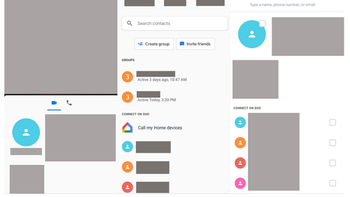 Now that
Apple's FaceTime supports group video chats with up to 32 people
, you might expect some sort of response from Google. And there is.
According to Android Police
, leaked screenshots show that such a feature is on the way to Google Duo. And more leaked screenshots reveal that Google's video chat app will also add a low-light mode that will allow you to video chat in low-light conditions and still be seen by those on the other side of the conversation.
The leaks show that Google Duo will limit a group video to seven people at the same time. But you will have to start a group first, containing the people you want to group video chat with. One call will be made to all the members of the group at the same time. In other words, you cannot add a new member to a Duo group video chat once it has started. You can create more than one group, and these will appear at the top of your contacts list. Right now, it seems that Google is testing this new feature on a limited basis, using a server-side update.
Also being tested is a new low-light mode. If you're having a Duo video chat under low-light conditions, a pop up will appear asking if you want to enable the mode. The pop-up will also ask if you want to set up low-light mode to be enabled automatically. If you agree to this, the feature will turn on whenever you are video chatting in an environment that is not well lit.
Recommended Stories