Gold and platinum HTC One unleashed
14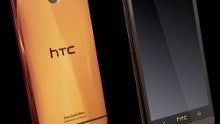 The smartphone market has decidedly become a buyer's market – incredible diversity to suit most any taste and a price range that can put at the very worst a somewhat smart device in an increasing amount of hands. But if price isn't within the checklist you go through before you make a purchase, then GoldGenie, a London-based expert in embellishing precious metals on gadgets, including phones, has a treat for you.
Two days ago, a blog post on the GoldGenie site announced that the last to receive the special treatment was the HTC One. GoldGenie knows you'll be looking for a good deal, so they've thrown an unlocked, SIM-free HTC One that comes with a fancy cherry oak box in tow, too. Not enough? As we're sure you wouldn't settle for anything less than a real bargain, the company has decided to also throw a pair of Beats audio earphones as well. The price of this luxurious deal? About $2900 for the 24ct. gold plating, $3100 for the rose gold and $3200 for the platinum HTC One.
For those of you looking for more, the company also offers to do their thing on a wide variety of items, including embellishing your Wii, your tablet or even your golf club.