Giveaway: 2x Motorola ROADSTER 2 Bluetooth handsfrees
99+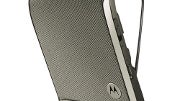 Motorola and PhoneArena are giving the thumbs up to responsible driving with a giveaway that can get you a brand new
Motorola ROADSTER 2
Bluetooth handsfree speakerphone - a must-have accessory for every self-respecting automobile! OK, maybe not a must-have, but it sure will come in handy when the President or some other important person calls you while you're on your way to the gym. And you can't reject a call from the President, can you?
Seriously, guys (and gals), our society has to start taking all this talk about accidents on the road caused by careless driving more... seriously. As a matter of fact, all of us here at PhoneArena are very strict drivers, and we don't hesitate to use the latest technology in order to improve our driving experience. For example, when we get behind the wheel, the first thing we do is to put our Android or iPhone on the car mount, play the latest episode of our favorite show that we couldn't catch last evening, and then we're ready to set off... Anyways, for those of us who want to reach their destination alive, it's best to use a Bluetooth handsfree like the ROADSTER 2, which we actually quite liked when we tested it for
our review
.
OK, we guess you now want to know what you have to do to have a chance to win one, right? We're keeping it extremely simple - just answer the following question with a comment posted below:
Do you have a habit of using your cell phone when behind the wheel?
Just post your answer as a comment for a chance to win one of two Motorola ROADSTER 2 handsfrees. The winners will be announced next Thursday and will be contacted via the email address they used to register on PhoneArena.
*update June 28* - we have drawn the lucky winners. congratulations to "charlesmont" and "mnp188" - please check your emails for details
And by the way, if you're looking to purchase a Bluetooth accessory from Moto's site, use can use the promo code "THUMBSUP" without the quotes, for a sweet 20% discount.
READ OUR MOTOROLA ROADSTER 2 REVIEW
By entering this promotion, participants agree to be bound by these terms and that the decision of Phone Arena is final and binding in all matters relating to this promotion.

The draw is open only to USA residents aged 18 or over, other than employees of phonearena.com, its agencies or their families.

Phone Arena reserves the right to substitute a prize of equal or greater value if this is necessary for reasons beyond its control. No cash alternative to the prize will be offered.

Phone Arena reserves the right to re-draw the prize if the prize-winner does not reply within three days after being contacted.

Phone Arena accepts no responsibility for any loss, damage, injury or disappointment suffered by any entrant resulting from entering this prize draw or by the entrant's acceptance of the prize.

Phone Arena reserves the right to alter, amend or foreclose this Free Prize Draw without prior notice in the event of unforeseen circumstances, which make this unavoidable.