Get Street View back on your iPhone with this app
3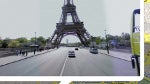 One of the cooler features that got lost with the arrival of iOS 6 was Google's Street View. No more free strolls around the Eiffel Tower or the Coliseum, no more Palmeral de Elche! Well, guess what - you can bring Street View back to your iPhone right now, thanks to an enterprising dev studio and their app.
The app in question is called
Live Street View
, and costs only $.99, but there's also an ad-supported free version. Upon launching it, you are presented to some very basic-looking maps, but the magic begins when you dive into a city and start exploring it as if you're there. That's right, if the Flyover feature's bird's-eye view simply doesn't cut it for you, this app will certainly help you relive those memories when you explored the world from the safety of your home. Live Street View is using image data from Google, so the experience should be pretty similar to the real deal.
Follow the steps in the gallery below for some guidance on how to get started with the app!
You can also get Live Street View from the iTunes App Store
here
!