Garmin Fenix Chronos hands-on: here's what a $1000 smartwatch looks like
9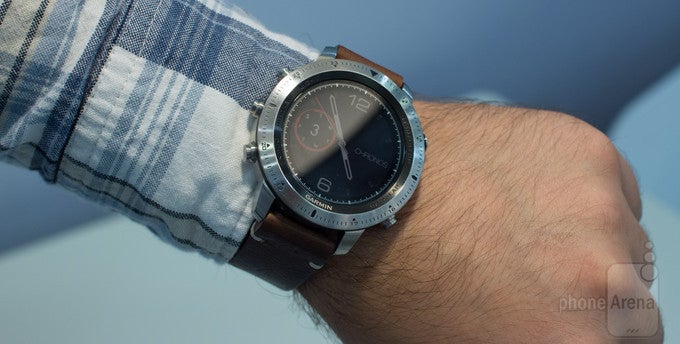 The Garmin Fenix Chronos is as big and solid as it is expensive. And it is very, very expensive. We're talking about figures starting at $900, which puts it among the most expensive smartwatches announced so far (although it is still "cheap" in comparison with the Apple Watch Edition).
But what exactly do you get in return for all that money? Well, for starters, the Garmin Fenix Chronos is no toy. In fact, it feels built like a tank. It is a huge timepiece, mind you, and it stands out with its tough, masculine look. The housing of the watch is made of 316-grade stainless steel, water resistance is ensured down to 300 feet/100 meters, and a piece of sapphire protects the (non-touch) display from scratches. In other words, this thing is built to last. Oh, there's a titanium model as well (not pictured here) for those who don't mind paying the steeper price of $1500.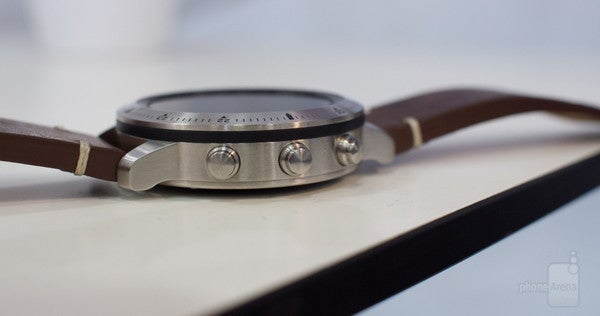 The Garmin Fenix Chronos is luxurious, but expensive
Two are the strap options available for the Garmin Fenix Chronos. Оne is made of thick genuine leather. The other is built of polished stainless steel and will cost you $100 extra. Both feel durable and well-made, as one would expect. The third option – a titanium hybrid band – is available on the aforementioned titanium variant only.
Garmin has chosen to go with a 1.2-inch color display on the Fenix Chronos. It isn't a touchscreen and it doesn't have to be, as the watch runs Garmin's proprietary software, not something gesture-based, such as Android Wear. Navigation is done using the large buttons on the sides, which are well exposed and easy to operate. The screen itself isn't as pretty as the AMOLED panels on the popular smartwatches. It isn't as detailed either. On the other hand, it boasts excellent outdoor legibility and shines with its power efficiency. Although the display never goes off, the Fenix Chronos can last up to several weeks on a single charge (if used in watch mode). There's a backlight as well, triggered by a press of a button or by a flick of the wrist.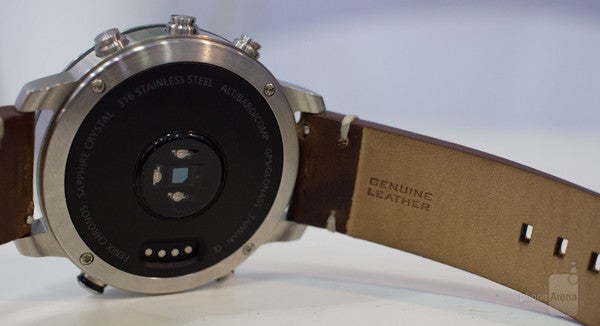 The Garmin Fenix Chronos features an array of sensors and quality-made straps
So, what can a smartwatch like this do? With an array of sensors, including a GPS radio, an altimeter, a compass and a heart rate monitor, the Garmin Fenix Chronos can be a reliable activity tracker. And we're not talking about it being able to calculate the calories you've burned or to count the steps you've taken throughout the day. The watch should be precise enough to detect things like your swimming style, to calculate the distance of your golf shot, and to start a new lap automatically once you go around the stadium. Needless to say, it can also display notifications when paired with a smartphone, and it even provides music playback controls. Additional apps and widgets can be downloaded as well.
To wrap things up, this most definitely isn't a smartwatch for everyone. The Fenix Chronos is too expensive for the average buyer, and functionally, it isn't as flashy or fun as most other offerings we get to write about. But we have a feeling that Garmin's accessory is built with other ideas in mind – to do less, but to be better at it; to shine with its longevity and build quality, not with its polish. Garmin isn't likely to sell truckloads of these, but hey, Ferraris aren't sold by the millions either.