Games like Command & Conquer and Starcraft for iPhone and Android
4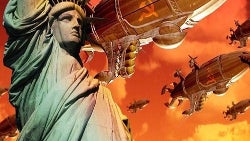 Real-time strategies — a true classic of gaming. Dating back to 1993, when Dune II defined the genre, and further perfected by Command & Conquer in 1995 and Starcraft in 1998. Real-time strategies require knowledge of your army, pre-planning, the ability to improvise on the fly when all your strategies fail, and a drop of twitch reflexes in there. No wonder they developed cult followings.
While consoles don't really do well with real-time strategies, due to the lack of a mouse, smartphones and tablets can be surprisingly good for the genre. Touch inputs, after all, are quite quick. Sure, we miss hotkeys and the ability to scroll around and tap like crazy at the same time, but with the proper pacing and good UI design, one can make a really good strategy game for mobile devices.
So, we got a bit nostalgic and thought we'd take a look at some games that were clearly inspired by the titans of strategy games — Command & Conquer (just let's never talk about C&C 4, OK?) and Starcraft. We got 4 quality ones. Check them out, let us know if you liked them and if you are aware of an awesome RTS game that we missed!