Gamepads galore: 7 wireless game controllers for smartphones and tablets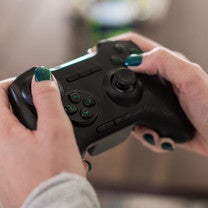 There are two kinds of smartphone users: those who play games on their mobile devices, and those who say they don't, although they're way past level 700 on Candy Crush Saga. Lame jokes aside, this post is all about gaming. About gaming accessories, to be more specific – about gamepads designed specifically to be used with smartphones and tablets. Because when it comes to real gaming, nothing can beat the analog feel of buttons pressing against your fingertips.
So yeah, the slideshow below will introduce you to some of the better controllers made for smartphones and tablets. Priced between $35 and $70, compatible with iOS or Android, there should be something on the list that will suit your needs. Just be aware of one thing – not all mobile games are compatible with gamepads. Before you pick a gamepad model for yourself, make sure that it works with your particular device and can get along with your favorite games and genres. That said, let us show you the Android and iOS gamepads we've picked.