Galaxy S6 edge vs Note 4 low-light camera test gives props to the new flagship (video)
33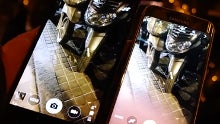 From the new lens and the whopping f/1.9 aperture for the rear camera, to the added optical image stabilization, and the improved wide-angle ratio of the fresh 5 MP front camera, there are plenty of new features to go around in the new
Galaxy S6
and S6 edge camera module.
At first look, it carries the same resolution as the snapper in the
Galaxy S5
, so what's so different about it, right? Well, resolution is only a part of it, and Samsung has upgraded the both the rear and front camera units of its new flagships in very meaningful ways, registering them for the smartphone camera top marathon. Just look at Samsung's own description: "
Quick Launch, Tracking AF, Auto Real-time HDR(Front & Rear) , F1.9, Low Light Video(Front & Rear), High Clear Zoom, IR Detect White Balance, Virtual Shot, Slow Motion, Fast Motion, Pro Mode, Selective Focus
." Whew, let the last one close the door.
The ultimate test for a smartphone camera these days, however, are its low-light abilities, as in bright sunlight every unit takes passable to great pictures now. Well, the F1.9 aperture seems to indeed make a difference, as can be attested with the real-life, improvised low-light comparison between the
S6 edge
and the
Note 4
with its bog standard F2.2 one. As you can clearly see below, the S6 edge soaks in much more light, exposing the night street scene in a lighter, clearer manner.