Galaxy S10+ vs S10 vs S10e: battery life comparison
39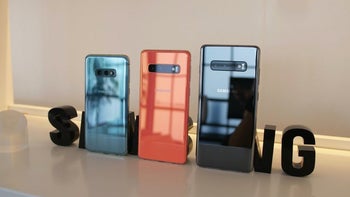 The three new Galaxy phones are here: the 6.4" Galaxy S10+, the 6.1" Galaxy S10 and then the super compact, munchkin Galaxy S10e.
And if you are picking among these three, you are probably wondering how they compare in terms of battery life.
After all, the battery sizes on these three phones are quite different:
Galaxy S10+: 4100mAh battery
Galaxy S10: 3400mAh battery
Galaxy S10e: 3100mAh battery
We have now completed our battery tests for all three new Galaxy S10 models and we can see the difference between them, but since we are running the same standardized test at the same conditions for all phones, we can also see how the new Galaxy S10 series compare against the Galaxy S9, Galaxy S8 and the Note series.
The first thing that we noticed in our test is that – predictably – the biggest Galaxy S10+ model with the largest battery has the highest score at nearly 8 hours. Surprisingly, the Galaxy S10e, which has the smallest battery, did slightly better than the Galaxy S10.
And then when we compare these scores to earlier models, you notice that you should expect about the same battery life. The S9+, for instance, scored just around 8 hours on our test, and then, the S8+ also scored around 8 hours, and now the Galaxy S10+ also hits the same ballpark. Our real-life experience confirms that you get decent battery life on the S10+, but definitely not something truly extraordinary, so you should still expect to have your S10+ charging every night.
We tested the Exynos S10 models
The Galaxy S10 and the S10e scored slightly below the average and on those busier days you might need to top them up earlier in the day if you want them to last a full day.
In a nutshell, the new Galaxy S10 series battery life is about as good as in earlier years, but unfortunately not significantly better. And while this is still okay, other phone makers have pushed battery life even further on their phones and we wish Samsung did a bit better on this test.