Galaxy Nexus tip: shave before trying Face Unlock
15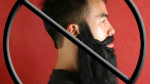 We've been playing around with the Galaxy Nexus, and we know you out there are just about to get your hands on yours, but there are some tips and tricks to help you with the new Android 4.0. Our first tip is for Face Unlock.
Face Unlock is the newest gimmick feature to hit mobile phones. It pushes along the grand tradition of features like Face Time, which look really cool and are sure to impress people, but don't have a lot of practical real world use. Face Unlock isn't very secure, we confirmed that it will easily be fooled by a picture, and there is another slight trouble with the feature: it hates facial hair. Face Unlock will likely still work if you have a beard or mustache, but it will be a lot more finicky, and have more trouble recognizing you, especially if you haven't trimmed your beard in a while.
Face Unlock is very fast and easy when it does work, but it's probably a good thing that ICS is being released after Movember. At least Google has another year to tweak Face Unlock before the next barrage of facial hair.
Recommended Stories