G5 Electronics releases Virtual City FREE for iPhone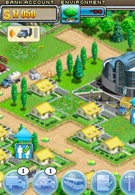 What's better than imposing your will upon an entire city's populace? We're not sure, actually - but for the sake of the argument, let's just say it's
imposing your will upon an entire city's populace
using your
iPhone
. Thanks to the kind folks at GE Electronics, that dream can now become your reality. For free, even.
Virtual City FREE allows players to build, develop, and take loving care of their very own simulated cities - all without pesky barriers to entry like
getting elected
or
having rich friends
. The game is capped at four levels, although a forthcoming full version will offer over 50. Other features available in the full version will include inter-city commerce, a Free Play mode, and the ability to build landmarks like Spaceship Launch Pads and Train Depots.
G5 Electronics haven't announced an official release date for the full version yet, but we don't suspect it'll be too long. Until then, head on over to the
App Store
and check out the free version. Just don't let the power go to your head.
source:
IntoMobile