Future Windows Phone models might know where your fingers are going before they hit the glass
27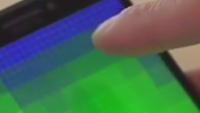 Windows Phone powered handsets could eventually be given the ability to "see" where your fingers are before they touch the display. This technology uses a self-capacitive touchscreen to figure out where you are gripping the outer edges of the handset, and computes where your fingers are located in space above the screen.
With this information, the phone can use "pre-touch sensing" to figure out where you are going to press the screen before you even do it. You will be able to select text when typing, or press buttons without touching the glass. Websites could show links only once your fingers hover above the screen.
Unlike previous attempts at this type of feature, Microsoft expects its version to have many more capabilities than just scrolling up and down on a website. For example, while watching a video, you can cover the phone with your hands to call up the playback controls. If you're holding the phone with one hand while viewing the video, controls will appear on the side of the phone that you are holding.
Microsoft made a video of this feature last month. Even if this does make it past the prototype stage and becomes available on new Windows powered handsets, it probably won't be enough for Windows to pick up enough market share from Android and iOS to become a viable threat to either one.
source:
MicrosoftResearch
via
TNW
,
Engadget