Froyo still on majority of Android devices, but down 10% from last survey
25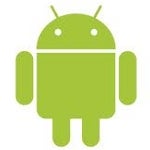 The latest breakdown of OS software build on Android devices shows that
Froyo still leads the way
. Android 2.2 is on 55% of Android branded phones and tablets. But while still a clear majority, Froyo has lost 10% of its share since the last report as the
Gingerbread build has become more ingrained
into the Android platform.
Following Android 2.2 is the 23.7% of Android devices powered by Android 2.3.3 and the top of the line 2.3.4. One of the major differences between the two is that
the latter is enabled for gTalk video chat
. 15.2% of Android powered phones and tablets still run Android 2.1 while the 2% of Android 1.6 follows.
The survey was conducted over a two-week period ended August 1st, 2011 and shows that of the tablet optimized Honeycomb builds, Android 3.1 has the largest share among all Android devices with .7%, followed by the .4% of Android 3.0 and the .2% of Android 3.2
As more phones get updated to Gingerbread, we should continue to see Froyo's percentage drop while
Gingerbread eventually takes over the majority
of Android models. By that time, Ice Cream Sandwich should start to appear in a small number of phones.
source:
Google
via
AndroidCentral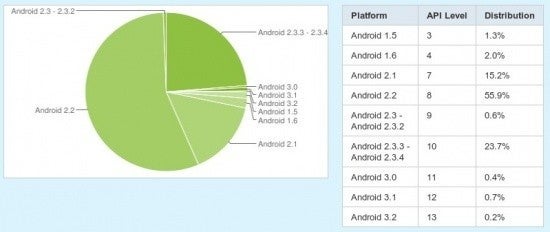 Despite losing 10% of its share of Android phones since the last survey, Android 2.2 still is in the majority of Android handsets