Frog is determined to be the cause for Telstra's service disruption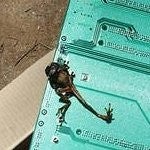 We all know those feelings that encompass us whenever service to your mobile phones is disrupted, but it's not all the time that we're told explicitly what the details are surrounding the outage.
For the
Telstra customers
in Queensland, Australia, they found out the real reason very quickly as to why service was disrupted for a period of time. In the land down under, the wet weather conditions of late have been causing
frogs
in the local area in Childers, Queensland to breed "like crazy." And apparently, one of them somehow managed to slip itself through a cabinet, pass some air filters, and eventually into one of the main boards of a Remote Integrated Multiplexer (RIM) unit.
Unfortunately, the frog's actions not only
shorted out the unit
, thus causing a disruption of service to 160 customers, but it had a lethal impact on the frog as well. For those affected customers, they were unable to place any incoming calls and even caused certain ISDN services to be "completely offline."
source:
The Sydney Morning Herald
via
Textually