Formula 1 to release an updated app, Android version in the works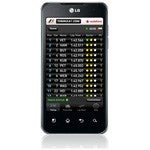 Fans of the most popular car race in the world have something new to celebrate! A few days before season 2011 has started, Formula1.com announced a new, official application for its sports competitions. In association with Vodafone, it will issue the latest news, timing data, the progress of every driver, latest results and much more. All iOS users will be informed of new information updates through push notifications (this feature might be available for other platforms later as well).
Using the application, during every race, you will also be able to receive data for the temperature on the track, rainfall, air pressure and humidity levels, wind speed and direction.
While the release date has not been announced yet, it's good to know that the application will have a version for Android, in addition to the iOS one and possible for some other platforms. In order to use this application, you'll have to register in the official Formula1.com website; the registration is free of charge.
source:
Formula 1