Former CTO of AMD joins Qualcomm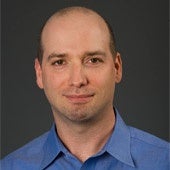 Former AMD chief technical officer
(CTO) and Eric Demers who quit AMD earlier this year,
has now jumped ship to Qualcomm
in what is a big gain for the chip maker and its Adreno GPU division. Demers is seen as one of the key people in AMD's 4xxx series of chips, and will definitely be a key contributor to Adreno now.
Interestingly, Qualcomm's own Adreno graphical department has its roots in AMD's/ATI's Imageon division. The Imageon department was sold to Qualcomm in January 2009 for $65 million.
To better illustrate this, we need to mention titles like Infinity Blade that pump out nearly console like performance out of the current crop of graphical chips. Apple for once has shown commitment to graphics even when it doesn't improve the CPU, but even with Apple aside it's clear that GPUs will play a huge role in making a mobile device stand out.
Demers will manage the graphics team and be responsible for a competitive Adreno GPU, able to compete with the upcoming Imagination Technologies' Series 6 PowerVR.