First images of Motorola V750 for Verizon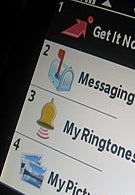 The Motorola V750 for Verizon Wireless is yet another clamshell phone. It has the same keypad layout as the VU30 and as a whole will be very similar feature-wise, but with a different design language. The VU30 will be PEBL-like, with rounded edges, just as the W315. The V750 will be with sharper edges, and more 'aggressive' design.
For now, we don't have any additional information.