First Bluetooth DSP-enabled headset – "Bluespoon Digital" to be launched soon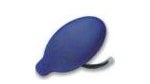 Dspfactory Ltd., provider of programmable digital signal processing(DSP) technology and Nextlink.to, developer of professional and consumer communication devices, announced a while ago that Dspfactory's BelaSigna™ chipset is a core component of the world's smallest Bluetooth headset – the Bluespoon™ Digital from Nextlink.to. The DSP-enabled Bluetooth Digital headset was unveiled at the COMDEX tradeshow in Las Vegas.

The BelaSigna™ chipset enables the implementation of digital speech and audio-centric functions, including:
• Speech enhancement
• Noise reduction
• Dynamic range compression
• Music and speech compression
• Speech recognition and compression
• Echo cancellation
The BelaSigna™ provides 16-bit stereo audio conversion and 18-bit block floating point processing, software programability with advanced audio and speech processing algoriths and very low power consumption (suplly voltage - 1.2V-1.8V and 0.05 mW/MIPS).
It is expected that the DSP technology will greatly contribute to:
• Superior Sound Quality
- Advanced acoustic design
- DSP equalization of transducers
• Improved Listening comfort
- Superior intelligibility
- Advanced management against loud, undesirable sounds
• Easier Speaking
- Reduced noise
- Reduced echo
- Improved voice command recognition
According to our source at Nextlink.to, the first pre-production Bluespoon Digital units will be available sometime in February.