Fingerprint scanner support and more may come with Windows Phone 8.1
19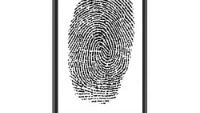 Security options are starting to expand, because everyone has finally come to realize that passwords do not offer enough protection and are easily cracked. There are various options in the works, but the technology that is most ready to step in is in fingerprint scanning. There were devices in the past to attempt to implement it, but none were too successful until the iPhone 5s. Now, everyone wants in, and that may include Windows Phone devices.
Ever since the
Windows Phone 8.1 SDK
was released, people have been digging through the code to find out any clues as to what will be in store with the (seemingly massive) update. We've known about the coming Cortana voice assistant and notification center, but there has been plenty more to discover. The newest discovery is potential support for fingerprint scanners. Under the "Credential required" heading, there is code that points to a choice between entering your password for access or scanning "an enrolled finger on the fingerprint reader".
If fingerprint readers become widespread on Windows Phone, it could certainly help Microsoft's push to capture some of the enterprise market. The code goes on to imply that there will be more comprehensive Start screen themes available, as well as more advanced messaging options for dual-SIM devices.
Now, all we need is the actual update.