Fighting a smartphone obsession: 5 ways to stay focused and keep your smartphone from distracting you
26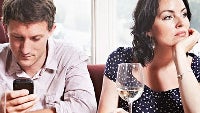 We'd the first ones to admit that smartphones are amazing. Nowadays,
a smartphone can often times replace a camera, notebook, e-reader, music player
, GPS navigators and who knows what else. However by giving all these functions to a single device, we are just begging for distraction.
Think about it - how often do you find yourself interrupted by all sorts of worthless notifications? We made a conscious effort to track that and while there is no universal answer, we can definitely say
"too many times!"
Facebook likes, group messages, game updates and all sorts of notifications just join together for a never-ending stream of distractors. Until we decided,
we've had enough
.
Was it time to throw away those smartphones and go back to the good ol' times when only an email, text or a call would interrupt your day? That's one option we considered, but why give up all the benefits of a smartphone? Would not it be better if we ourselves could control our behavior and have smartphone comply?
It was
time for a serious reassessment of what we do on a smartphone
, how we do it and when we do it. After weeks of experimenting, we think we've narrowed it down to just six steps that got us rid of unnecessary distractions. We kept our gorgeous smartphone and our focus. Every once in a while we would get tempted to break the rules, but as soon as distraction settles in, we go back to reminding ourselves that it is us who control our devices, not the other way around.
Take a look at the six rules we came up to stay focused and
keep our smartphones from distracting us
right below, and do not hesitate to share your thoughts on this itchy subject in the comments below.