Facetime enables 2-year-old to help save mom from dog attack
12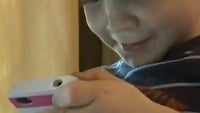 Laura Toone was having a regular busy day with her kids and dogs. One of the dogs was in foster care with her. Unfortunately, two dogs started to fight, and Laura had to intervene.
When that happens, it is not uncommon for one, or even both dogs to turn on the outsider, and that is what happened to Laura, resulting in her hand getting caught by the foster dog who then proceeded to bite her finger almost clean off.
She tried to dial 911 herself, but the blood, the condition of her hand, along with resulting blood loss was not allowing her to use her iPhone. She then asked her daughters, both 4-years old, to call 911 for her. They were too afraid to help at the sight of so much blood.
Laura's 2-year-old son, Bentley, comes to the rescue. The kid loves using his mom's iPhone, and has apparently become proficient at being a young-gadget-master. Bentley brought his mother a towel from the kitchen and then wiped the blood off her iPhone.
Then, he initiated a FaceTime call to his mom's friend, Connie Guerrero. "All I could see was his little forehead, and I said 'Hi Bentley,' and it was quiet for a little bit. And then I hear Laura screaming," according to Guerrero, who then called 911. The paramedics were met by Bentley at the door.
source:
KGUN
(YouTube)