Facebook plans an empathetic 'dislike' button
28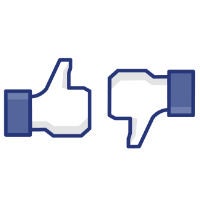 According to Facebook CEO Mark Zuckerberg, the social network is planning to give users a feature they've been wanting for a long time: a dislike button. But, the button won't be used for evil, at least that's Zuck's plan, and will supposedly be aimed at giving users a more nuanced option for one-click reactions to a post.
Most importantly, Facebook does not want the dislike button to be used to disrespect a post or harass someone, and Zuck specifically said he doesn't want Facebook to become a forum for voting posts up or down as you would on reddit. Instead, Zuck says the dislike button will be aimed at a more empathetic tone. So, if someone shares something sad, like losing their job or a loved one passing away, users will no longer have to feel strange about pressing the like button. Instead, there will be the dislike button in order to show support.
As you can tell just from the explanation, this kind of sentiment is very difficult to provide (especially if users can't be bothered to simply type the words "I'm sorry") but Zuck said the company is finally close to shipping a test version of the dislike button. However, he did not say when that test, or the full rollout, might begin.