Facebook 3.1.1 for iPhone causing more problems for users?
8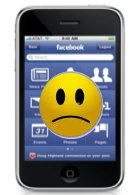 You'd all think that the latest version of the Facebook app for the iPhone would seemingly bring some much needed joy to users? Sure it does add items such as push notification to the mix so you'll be informed of all the new stuff happening. Unfortunately, some users are voicing their poor experience with the social networking app. For starters, the long awaited push notification doesn't work most of the time according to some users – usually there's an alert sound accompanying it, but sometimes it's absent.
There are even other problems with it such as users getting an "error" message whenever they're commenting on a picture. You'd think with the release of version
3.1
.1 that all the new features would be ironed out to provide a seamless experience right? Well, the scenario is proving to be a little different with many users on the fence with the app – it's giving them more headaches than anything else. We'd probably expect these issues to be addressed soon with yet another minor update.
source:
The iPhone Blog