FCC lists a whole slew of new Motorola model numbers
5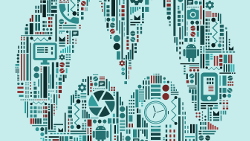 First thing to remember is that when you see a smartphone with a model number that starts with XT followed by four numbers, chances are that you're staring at a Motorola branded model. Let's take a look at some recent examples. the
Motorola DROID Turbo
wears model number XT1254. The
Motorola DROID Turbo 2
is model number XT1585, and the
Motorola Moto Z Force Droid
is XT1650. You get the idea.
Recently, the FCC certified a number of new Motorola smartphone models including the XT1670, XT1671 XT1672, XT1675, XT1676 and XT1677. From the sketch used to display the label, it appears as though this phone and its variants will feature a single rear-facing camera inside a circular mounting. A flash is underneath the lens. In other words, it looks like the same camera setup found on the Moto Z models.
The XT1670 and XT1671 have 2GB of RAM and 32GB of internal storage. Obviously, we are not dealing with high end handsets since most of those units will carry at least 4GB of RAM at this time. Android 7.0 is pre-installed, and a 2800mAh battery is inside. The XT1672 has similar specs, according to the FCC documents. The XT1675 and XT1676 also are similarly spec'd, but feature 16GB of internal storage. The former is a single SIM phone for the Europe, Middle East and Africa region. The latter offers dual SIM capabilities for Australia. One model, the XT1677, has 50% more RAM with 3GB inside. The amount of native storage remains at 16GB.
We will keep an eye out for these model numbers, and hopefully we will be able to soon pass along some more information about these new Motorola models.
source:
FCC
via
TimesNews.co.uk