Ex-Samsung Electronics manager pleads guilty in insider trading probe with Apple iPad components
9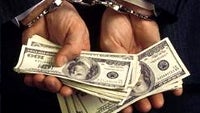 A former employee of Samsung Electronics said he indeed
supplied screen components shipping information to a hedge fund manager
about the upcoming Apple iPad last year.
Samsung is making some of the screens and other gear for the first iPad, so Suk-Joo Hwang was lured by promises for flying models on a private jet during weekend trips to Iceland in exchange for insider info about Apple's upcoming disruption device. We kid, but Wall Street somehow got under the guy's skin, and after 14 years of humble work for Samsung Electronics USA, he was trapped by the necessity to install a granite countertop in his old kitchen.
The guy has been granted immunity from the New York prosecutor, in order to catch the bigger fish, Primary Global Research LLC (PGR) executive James Fleishman. He is running an expert network consulting firm in Mountain View, whose main activity has obviously been getting insider info from one source or another, and selling it to the highest bidder.
Suk-Joo Hwang worked as a consultant to PGR for six years, and received $38 000 total in compensation. He did make the usual disclosures during his lunch with Fleischman, like "
please, just keep this for yourselves
", and, in February 2010, when he got a promotion, he advised PGR he wants to stop consulting for them. The expert network firm, however, upped his hourly pay from $200 to $350, he couldn't resist the temptation, and stayed until last August.
In October 2010 FBI agents approached him, and, after the initial denial, he traded his knowledge on PGR insider trading for immunity from prosecution. He was fired by Samsung in June this year, and the testimony continues today, so we'll keep our eyes peeled for any juicy info.