Even Rovio has made a Flappy Bird-like game called "Retry"
5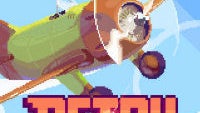 Ever since Flappy Bird became a flash phenomenon, there have been a ton of clones popping up from various smaller developers, but there haven't been too many established game makers trying to recreate the flappy magic. Maybe it was the very disappointing revenue numbers, but Rovio is giving it a try.
The game is called Retry, and it isn't exactly a Flappy Bird clone, but it is quite obviously heavily inspired by Flappy Bird. It has the same 8-bit graphics and appears to have the same rage-inducing gameplay. In Retry, you control an airplane that doesn't really bother with the usual physics of an airplane. It can do loops, but it can also apparently stay airborne with its nose pointed straight up, and even move backwards from that position. Like Flappy Bird, if the plane touches anything at all, it is game over and you have to retry.
The game wasn't developed by Rovio's main team, but by the LVL11 team of Rovio that was supposedly going to be working on more experimental games. This isn't quite that, but there is a chance it could be a fun game, assuming you enjoy crushing difficulty for little to no reward. Right now, Retry is in a soft launch, so it is only available on iOS and only in Finland, Canada and Poland. However, Rovio LVL11 is saying the game will be coming to "app stores soon", which implies an Android version and wider release at some point.
Download:
Retry
(iOS in select regions)