Eric Schmidt sees YouTube as bigger than TV
9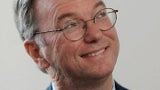 At a presentation to advertisers on Wednesday night, Google's Eric Schmidt has said that online video (YouTube) has already displaced the good old TV. According to Schmidt, the fact that YouTube recently reached a billion monthly viewers is just the first step to the service's bright future.
The executive chairman believes that YouTube is yet to penetrate the majority of the emerging markets, and that's when it'll become something immeasurably bigger.
"
Wait until you get to 6 or 7 billion. It's not a replacement for something that we know. It's a new thing that we have to think about, to program, to curate and build new platforms,
" said Schmidt.
YouTube's global head of content, Robert Kyncl, has attended the meeting as well, and also had something good to say about internet's favorite video sharing service: "
I thought that YouTube was like TV, but it isn't. I was wrong. TV is one-way. YouTube talks back.
" Of course, that can be said for pretty much any other video website, but you know how it is when you're talking to clients.
What do you guys think about this? Has YouTube become bigger than TV? As much as we love YouTube, we can't be quite a certain as Google. After all, many ambicious companies have tried to revolutionize or simply replace TV through the years, but none has succeeded.
source:
TheAssociatedPress