Elephone P9000 might be the first deca-core MT6797 Android smartphone, coming in October
17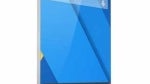 We've discussed the MediaTek Helio X20 CPU around here, but if you don't know the deca-core CPU's story,
here's the gist of it
- it's a 20nm chip where a pair of ARM Cortex-A72 cores do the heavy lifting, four ARM Cortex-A53 cores deal with medium load scenarios, and four optimized Cortex-A53s deal with low-power states. The keyword is "energy-efficient" rather than "benchmark-busting", although a pair of Cortex-A72 cores, at least on paper, is no joke by any means where performance is concerned.
Slated for launch in the fourth quarter of 2015, it looks like MediaTek's ten-headed, fire-breathing baby will first present itself to the world in the form of the Elephone P9000, a formidable Chinese flagship. Scheduled for an October announcement, the flagship model by Chinese upstart Elephone will integrate MediaTek's Helio X20 MT6797 deca-core CPU with an "ARM Mali-T800 series GPU clocked at over 800MHz".
Knowing ARM's most current GPU line-up, this has to be the Mali-T880 accelerator, which is clocked to 850MHz and is designed with advanced graphics and 4K resolution content in mind. The two will be supplemented by 4GB of RAM memory. However, the MT6797 CPU is limited to LPDDR3 RAM support, which goes against good future-proofing practice a little bit. Perhaps MediaTek's market position, which determines its access to the latest and greatest, still has some catching up to do with its huge ambitions.
A pair of Cortex-A72 cores, at least on paper, is no joke by any means where performance is concerned.
The Elephone P9000's spec sheet is completed by 32GB of expandable storage, a 20.7MP rear camera (probably of Sony's making), an 8MP front cam, and a 5.5-inch 1080p resolution display. A 3100mAh capacity battery runs the mains.
According to our source, this Chinese darling will cost the local equivalent of $500 when it's unveiled, which is near Xiaomi Mi Note Pro territory. With a sensible price and a spec-sheet that sounds full of potential, all we can do now is wait for the P9000 and hope it will turn out as good as Elephone has made us believe it is!
source:
WebCusp