Ecology and cell phones
4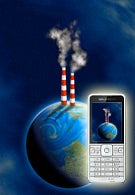 Your cell phone is also part of the problem, because it needs energy and the materials it´s made of take a long time to decompose. Not last, manufacturing handsets means cocktail of harmful emissions are regularly released. This article is dedicated to the environment-friendly cell phones available on the market now and the technologies that manufacturers employ to reduce pollution. Let´s get started with something simple like...
Smaller cell phone boxes
They are already widely adopted by manufacturers. On one hand, this is quite bad, because it means one box less for your many pairs of shoes and on the other, you hamster might suffer a severe fit of claustrophobia. On the other hand, they take less space and energy to lug around and hence, allow easier transportation, because an increased number of boxes can be hauled on the same vehicles. Plus, you will feel better about contributing to preservation of the Earth. According to data, released by Nokia, the introduction of smaller boxes meant less raw materials were used in production, which saved about 15 tons of paper (55 000 threes) and 100 000 litres of water in 2007 alone. Did the company profit from the whole stunt? Well, it did managing to scrape off 100 mln EUR (again, according to the official data from Nokia).
Yari
and
Т715
.
Of course, aside from trees, our human activities deplete all natural resources of the planet and we are on a steady trend of running out of them soon. Power plants are still predominantly based on burning of fossil fuels, while we keep squandering the energy they produce. What can help here is the…
Use of energy efficient chargers
Why charging your phone every day or overspend if you can decrease the energy consumption of the handset itself? Many manufacturers encourage this through making sure their devices feature power saving modes, screen brightness options, functions like shutting down of running apps, Wi-Fi and Bluetooth if they are not in use etc. Actually, turning off your cell phone while you sleep is not a bad idea, plus in this way you make the risk of someone waking you up in the wee hours of the night virtually non-existent.
The efforts manufacturers have been making to help protect our environment are most evident in their…
Eco-friendly cell phones
•
Nokia 3110 Evolve
•
Nokia N79 Eco
•
Nokia 3710 fold
•
LG KU380
•
Sony Ericsson Naite
•
Sony Ericsson C901 GreenHeart
•
Motorola Renew
•
Samsung SGH-E200 Eco
•
Samsung Blue Earth
• ZTE Coral-200-Solar
The most of the latest Nokia models like the
E72
,
E55
,
E52
,
5630 XpressMusic
,
6720 Classic
,
6730 Classic
,
6710 Navigator
are delivered in boxes that are 100% recyclable, feature power saving modes and chargers. The latter two in the list are most interesting with regard to environmental protection, because they utilize…
Alternative power sources
Aside from the Sun, power can be harvested from Earth´s geothermal energy, air or water movement, i.e. winds, tides etc. Another good idea is to make use of different chemical reactions in fuel cells that can be integrated as power source in modern devices. The technology is becoming mature and getting pretty close to providing a fully functional replacement to ordinary batteries. According to Nokia, all their devices equipped with 2mm charger port can support alternative energy sources and the company is just waiting until a proper technology has appeared.
Apart from developing technologies to harvest energy from alternative sources, manufacturers are also trying to make more people aware of their…
Ecology programs
Nokia is definitely the global leader here. The Finnish company has established websites like
Connect2Earth
,
Green Explorer
,
MobilEdu
, where you can find out more about the ecological problems of the planet and the eco parks you can visit on your holiday. There you can also find applications that provide access to the same information directly on your cell phone, such as
we:offset
or
Green Explorer
. We have already mentioned about the Sony Ericsson´s website,
GreenHeart
, where you can read more about the vision of the manufacturer on current environmental issues.
One of the things we would like to see manufactures take to heart is encouraging…
People to get their phones recycled
As a whole, all manufacturers seem to have extensive plans on how to handle their part of the uphill battle that protecting the environment will be. Unfortunately, the development and practical implementation of these ideas runs at a much lower gear than the vicious fight for more camera megapixels and larger screens. And to a large extent, this depends on us, the consumers ourselves. So, now´s the time to ask…
What do we want?
Would we prefer to get a cell phone, designed with preserving the planet in mind even if it doesn't feature all the trendy features for this season? Can we be actually bothered to recycle our handsets? Do we have any ideas pertaining to saving our planet in the context of cell phone technologies? Or we will just go on, turn a blind eye to the problem as if it doesn't even exist and keep buying all the rage toys to play with while the planet dies?
sources:
Wikipedia
,
Nokia
,
LG
,
Samsung
,
Sony Ericsson