Early beta of VLC media player hits Android: only for hackers
5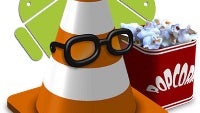 VLC
media player is the omnivorous cross-platform creation that you probably use on your good old computer - it chews virtually all formats, local and on the web, and has a relatively simple interface. And now, it's finally arrived in its beta form on the Android platform.
But not that beta that just everyone can try - if you are not a power user you'd better stay away from this version until it gets the final touches. The current beta only works with CPU ARMv7 devices with support for NEON. It also supports direct browsing of directories and comes with gestures that control the volume.
Finally, it also comes with this funny warning for the beta:
"It might kill your kitten, destroy your house and start the mayan apocalypse."
Install at your own risk.
via
TheVerge