Don't like that Verizon logo on your Motorola DROID Turbo 2? It can be removed.
23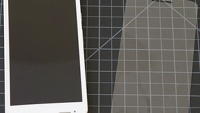 Don't like that Verizon red check mark located in between the two speakers on the
Motorola DROID Turbo 2
? Suppose we told you that it can be removed. As it turns out, the ShatterShield technology, which makes the screen shatterproof,
includes an outer layer that has to be replaced by the consumer
. Made of acrylic polymer, the Verizon logo is actually printed on this outer layer.
You could simply remove the acrylic polymer layer and the red check mark will disappear. However, you also lose a key component of the ShatterShield system. Not only would you be more likely to scratch or crack your screen without it, you could void your warranty by removing the exterior protective lens without sticking on a replacement.
But for those who just despise that red check mark, there is hope. Outside of the U.S., the DROID Turbo 2 will be known as the Motorola Moto X Force. Since it won't be a carrier exclusive like the DROID Turbo 2 is, the replaceable outer layer of the display for that model should be sold to consumers without any markings. And since the Moto X Force is the same exact phone as the DROID Turbo 2, the former's outer layer will be an exact fit for the DROID Turbo 2.
So once the Moto X Force is launched, buy the replacement exterior protective for the outer screen for that phone, and use them for the outer layer on your DROID Turbo 2. Once you do that, you won't have to look at any part of the Verizon logo on the front of your phone.
source:
AndroidAuthority