Dolby Digital Plus looks to optimize sound on mobile devices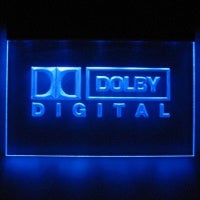 Tablets have matured tremendously in the past couple of years - now the newest iPad brings screen resolution that beats most HD TVs and quad-core processors are the norm for higher-end slates, and even for the most affordable ones. But while screen and processing power are growing, one area remains stalled, and that's sound.
First, that's partly because of the natural physical restrictions of a tablet, which is a small device after all and it's simply impossible to cram in a large speaker. Some manufacturers like Samsung with the Galaxy Tab have gone the extra mile and are including two speakers for stereo sound, but even the industry-leading iPad comes with a single speaker.
Can this be fixed? That's the exact topic that bothers Dolby Labs, the company that benefits most from licensing fees for stereo sound on say TV sets. And no wonder that it's bothered, tablets are cannibalizing TV sales, according to recent reports and that means less profits for the audio company.
That's why it developed Dolby Digital Plus, a software set of improvements to the sound on tablets. Dolby Digital Plus for Tablets is an attempt to bring the specification along with its fees to tablets and mobile devices in general.
There's little to compensate for cheap speakers with low-powered amplifiers, but this here specification is one of those things. It fights distortion and tries to maintain consistent audio output, and also does some neat things like leveling off high peaks when the volume is turned up to the maximum.
"Our overarching goal is to create an immersive experience, so that you feel connected with the content,"
Kevin Brennan, director of product marketing at Dolby Labs, said.
In reality, the effect seems to be limited but audible - testers report that dialog was heard louder with more ambient noises and a clear separation of audio channels. Don't expect miracles, though, the size of the speakers on mobile devices is definitely a limitation that can't be overcome, but the software improvements with Dolby Digital Plus are definitely something that you can expect to see on gadgets soon.
source:
Ars Technica