Doctors speak out against Apple's HealthKit
60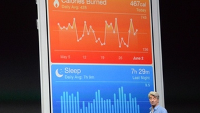 Apple's HealthKit will
help you monitor certain metrics captured by sensors
found on the iPhone, third party fitness wearables, and the Apple iWatch (whenever it gets released). But is it really a good idea for the public to so easily have access to readings such as heart rate, blood pressure and even blood glucose? There are many Doctors who believe that the answer is "no."
One such M.D. is Dr. Dushan Gunasekera, whose practice is in London. His concern is that the accuracy of the information cannot be guaranteed. As a result, he does not see any reputable Doctor as being able to look at your phone to make a proper diagnosis. He also worries about the interpretation of the readings by the general public. "
There is certainly a risk that people will see a sharp dip in one of their graphs, and interpret that as a big problem, when in fact the reading could still fall within a normal range
," said the Doctor.
Add to that worry, a concern from Dr. Rakesh Kapila. He is another London based Doctor, who was trained by the Mayo Clinic in the U.S. Dr. Kapila fears that HealthKit users could develop an unhealthy obsession with the readings. He suggests that HealthKit and other health related apps, tell users when their readings suggest that further action is required. This will prevent users from having their imagination blow up a minor ailment into a terminal illness.
There are some people that will benefit greatly from HealthKit, says Dr. Gunasekera. Diabetics might be able to monitor their blood glucose readings without having to draw blood each time. Certain sensors can be implanted under the skin that would send continuous readings to HealthKit, which can then warn diabetics if their glucose reading is too high, requiring an injection of insulin. Perhaps more importantly, an alarm can go off if a user's glucose reading is too low, which could lead to the insulin-dependent diabetic passing out. This warning would give the user time to consume a sugary drink or food, in order to prop up his glucose reading.
Pregnant women are another group that could benefit from a health related app. Monitoring the heart rate could help determine if the fetus is doing well.
What needs to be avoided are users treating their health readings as stock prices, with their emotions changing with every up and down tick. A little bit of knowledge can be dangerous when it comes to your health.
"When iOS 8 is launched, Apple will need to make an effort to show users what [HealthKit users] should be aiming for, failing that a patient's doctor will have to… technology is certainly not yet at the point where it can replace a real doctor. The human body is a complex object that changes from day to day and from hour to hour. Being so complex means that it will take a trained professional to look at all of your stats to make a diagnosis if something is wrong. Apple needs to make it clear that a Health app isn't a replacement for regular checkups, it is instead a way of monitoring some of your stats in-between appointments that can affect your overall health."-Dr. Dushan Gunasekera
source: Forbes