Discovery suggests x-ray cell phones are possible in the future
2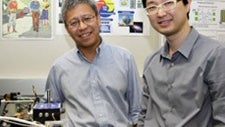 Our cell phones are always in our pockets and that makes them the perfect tools to cramp everything you can think of in - an x-ray imaging sensor is no exception. Of course, that's only a future project, but it uses real technology and discoveries that seem to be available now. It all centers around an imaging chip that will allow cell phones to see through walls, wood, plastics, paper and other objects.
In order to bring this dream to reality Dr. Kenneth O, director of the Texas Analog Center of Excellence and a professor of electrical engineering collaborated with a team headed by Dae Yeon Kim on combining terahertz electromagnetic waves and chips made using Complementary Metal-Oxide Semiconductor (CMOS).

The research uses terahertz electromagnetic waves." &nbsp
"CMOS is affordable and can be used to make lots of chips,"
Dr. O said.
"The combination of CMOS and terahertz means you could put this chip and receiver on the back of a cellphone, turning it into a device carried in your pocket that can see through objects."
This sounds almost like a superpower, and it is - it can theoretically create privacy problems and that's why the researchers are working on uses limited to less than four inches in range.
There is plenty of possible usage - from detecting studs in walls, to checking for counterfeit money, but most importantly for medical cases as a detector for tumors, to monitor air toxicity and accurately diagnose illnesses through breath analysis.
This is all a thing of the not so near future, so we wouldn't be holding our breaths, but it's definitely great to see where all of this is heading.