Developers of popular iPad game, "FTL: Faster Than Light" not so keen on iOS
8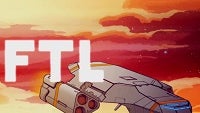 The mission is simple: save the galaxy. The well regarded sci-fi strategy game, FTL: Faster Than Light, has been around the PC and Linux crowd for a while. The developer, Subset Games, LLC, recently released FTL for the iPad where it continues to get rave reviews.
To accomplish the game's goal, you basically have to micro-manage everything on your ship in order to withstand the challenges that lie ahead. The narrative takes you through various sectors of the galaxy as you are tasked with delivering important information to the commanders of your fleet.
You encounter challenges though, and you have to take control and make the tough decisions. What do you do when the shields are down? Do you have enough power to escape? The adventure is random every time, and when you die, you're dead.
The game costs $9.99, and from reading the reviews in iTunes, it appears to be worth every penny.
"Don't buy this game if you are the kind of person that [won't] stop until you crack something."
If there is anything resembling a complaint, it is about the game's difficulty,
"'Easy' mode is a cruel joke. With that said, it's worth every penny and then some. You will die."
The gang at Subset obviously put a lot of thought and programming into the game for the iPad, and the game has enjoyed success. FTL got its start thanks to crowd funding through Kickstarter. Justin Ma, one of the developers, says the game is doing better than expected, but "iOS devices aren't really a platform we like developing on or designing for," noting that PCs are what make their hearts tick.
Touchscreens appear to be biggest part of the challenge, "I doubt we'll start a project with touchscreens in mind." Ma then goes on to say however that Subset Games is looking into bringing FTL to Android tablets and tablet PCs. The technical challenges with touch are magnified when just about everything in FTL is interactive. Ensuring that being able to select the smallest element on the smallest device (in this case the iPad mini) was critical while keeping everything visible on the screen.
The pains of success. This is what might happen if you make something so good that people clamor for you to make it everywhere -- it is hard to ignore.
source:
Pocket Gamer