Deer hunters in Kansas: texting the location of game not allowed
13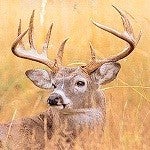 Hunting is a big deal across the United States. Hunters of all skill levels enjoy pursuing their chosen prey, and deer hunting is probably the most popular.
If you happen to be a hunter in Kansas and you see a buck on the move toward a friend's deer stand, you might be tempted to text your friend and let him know. Unfortunately, that is against the law in the state of Kansas, and the Department of Wildlife, Parks and Tourism is reminding hunters of that fact.
The law has been around for a while and traces its origin to disallowing the use of two-way radios for communicating the location of game for the purposes of taking the animal. However, the text of the law specifically states, "a radio or other mechanical device" and that includes cell phones. Therefore, texting is considered the same as a phone call.
So, if you are up and about in the woods of Kansas on an early morning hunt and miss the shot, just let that game find your buddy on its own.
via:
San Francisco Chronicle