Deal: You can buy a 200GB microSD card from SanDisk for just $64
4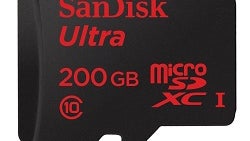 One of the best and most sought-after features on smartphones and tablets is expandable storage. Sure, thinner and lighter devices with premium builds are fantastic, but at the end of the day, being able to pop in a microSD card to double, triple, or quadruple your available storage is insanely useful. microSD cards usually aren't the most expensive purchases, but as you start looking at models with larger storage capacities, prices can rise quite quickly.
Amazon is currently running a deal on a SanDisk Ultra microSD card with a whopping 200GB of storage, and today you can purchase it for just $64. Being able to score 200GB for just a little more than $60 is an insane deal, and although Amazon might have been selling this same card for $49 during their massive Cyber Week sale, this is still a great price to pay if you happened to miss out on that past deal.
If you want to save a little cash, you can get the 128GB model for $39.99, but jumping up all the way to 256GB will cost you $199.99. The 200GB model is probably your best bet with this current sale, but with no word from Amazon as to how long the sale will last or how much is currently in stock, your best bet is to probably get your purchases in sooner rather than later.