Deal: This Samsung 10,200mAh portable charger with fast charging is 76% off, grab one for $20!
3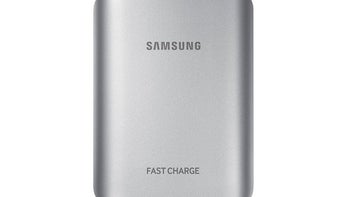 | Product | Location | Item Condition | Current Price | Offer Expires |
| --- | --- | --- | --- | --- |
| Samsung 10,200mAh portable charger w/ fast charging | Daily Steals | New | $19.99 ($84.99); $65/76% off | N/A |
The modern smartphone is a truly wonderful and practical device, but its magnificent splendor disappears as soon as its power cell gives in. If you need some extra juice on the go and battery cases freak you out, then you must have entertained the thought of getting a portable charger.
If that's the case, you'll be happy to know that Daily Steals is currently selling a nice Samsung 10,200mAh power bank at a very attractive price. The charger retails for $84.99 at Samsung's official store, but Daily Steals is offering it for just 20 bucks! That's a discount of $65 or 76%.
This model supports both Samsung's Fast Charge technology and the Qualcomm Quick Charge 2.0 standard, meaning that you get high-speed charging compatibility on a huge number of devices. The power bank itself can also be recharged faster thanks to these two technologies.
Another interesting perk of this product is "Pass Through Charging". When a device is attached to the battery pack and the battery pack is being charged from a power outlet, the device will be charged to 100% first and then the battery pack will begin to charge. Last but not least, the charger features 4 LED indicators that display remaining charge when the status button next to the light is pressed.
If this offer interests you, feel free to follow the above link to Daily Steals. Supplies are limited and the discount is big, so it's advisable to act fast.